SUNCY ECO-MARKET - THE FINE GROCERY STORE OF YOUR CRUISES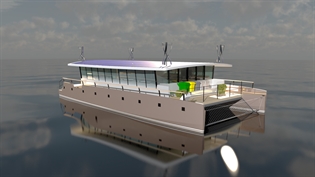 SEA MARKET propose une offre inédite pour tous les plaisanciers.
Mouillé sur les sites les plus prisés de la French Riviera, vous trouverez à bord tout ce dont vous avez besoin après plusieurs jours de croisière, et tout ce dont vous aurez envie…
-Des fruits frais,
-De la viennoiserie, Du pain frais,
-Du vin, du Champagne, des bières
-Des glaces,
-Des produits d'hygiène
Tout ces petits plaisirs qui agrémentent de façon inattendue une croisière ou une journée en mer
SEA MARKET offers a unique offer for all boaters. moored on the most popular sites of the French Riviera, you will find on board everything you need after several days of cruising, and everything you will want… -Fresh fruit,-Viennoiserie, Fresh bread, -Wine, Champagne, beers -Ice cream,-Hygiene products. All these little pleasures that unexpectedly enhance a cruise or a day at sea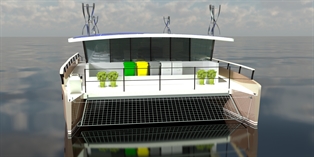 SEA MARKET propose également une service de collecte des ordures ménagères.
Equipé d'un compacteur solaire , SEA MARKET simplifie la gestion des déchets et participe à la sauvegarde de l'environnement maritime, tout particulièrement à une période très sensible de l'année.
Le catamaran est équipé d'un filet de récupération des déchets flottants au mouillage et en navigation, qui seront ensuite compactés.
Equipé de panneaux solaires d'éoliennes verticales et d'hydro générateurs, ce catamaran dernière génération construit en fibres de bambou respecte l'environnement et sera mu par des moteurs électriques non polluants.
Hors saison, le Catamaran SEA MARKET propose une plateforme événementielle mais aussi éducative et pédagogique. Sa totale modularité offre de multiples configurations, permettant d'accueillir des concerts, des séminaires, des soirées, mais ellle permettra également de sensibiliser les jeunes (et moins jeunes) générations à l'éco-responsabilité et au respect de l'environnement.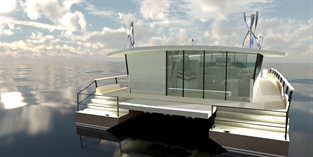 SEA MARKET also offers a household waste collection service.
Equipped with a solar compactor, SEA MARKET simplifies waste management and helps safeguard the maritime environment, especially at a very sensitive time of year.
The catamaran is equipped with a net for recovering floating waste at anchor and during navigation, which will then be compacted.
Equipped with vertical wind turbine solar panels and hydrogenerators, this latest generation catamaran built of bamboo fibers respects the environment and will be driven by environmentally friendly electric motors.
Out of season, the Catamaran SEA MARKET offers an event platform but also educational. Its complete modularity offers multiple configurations, allowing to host concerts, seminars, evenings, but it will also make it possible to sensitize young (and not so young) generations to eco-responsibility and respect for the environment.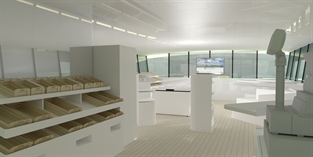 Un instrument pédagogique à l'usage des plaisanciers
SEA MARKET va plus loin.
Afin de sensibiliser les plaisanciers à leur impact direct et indirect sur l'environnement, avec le soutien de la région SUD.
SEA MARKET étudie des solutions de « vrac » avec des emballages écologiques développés par des filières valorisant le recyclage, le bio sourcing
SEA MARKET développera des solutions d'économie circulaire, et proposera des solutions de gestions de déchets organiques.
SEA MARKET portera également un message incitant les plaisanciers à trier leurs déchets, et offrira un outil de monitoring des attentes des plaisanciers, tout en proposant aux différents acteurs de la filière des solutions nourries par les témoignages recueillis.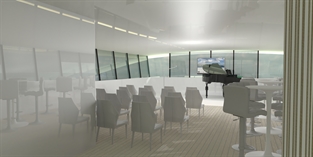 An educational instrument for boaters
SEA MARKET goes further.
In order to make boaters aware of their direct and indirect impact on the environment, with the support of the SOUTH region.
SEA MARKET is studying «bulk» solutions with environmentally friendly packaging developed by recycling, organic sourcing
SEA MARKET will develop circular economy solutions, and propose organic waste management solutions.
SEA MARKET will also carry a message encouraging boaters to sort their waste, and will offer a tool to monitor boaters' expectations, while offering the various players in the industry solutions nourished by the testimonies collected.